Beth's Picnic Concert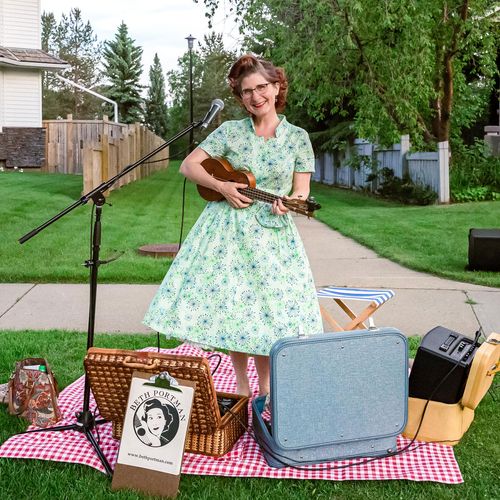 Beth's Picnic Concert Details
Beth's picnic concert is an outdoor/indoor presentation suitable for all ages. It's an easy, no hassle way  to bring  community, family and friends together. Beth brings her engaging music and sound system and you supply the power and a suitable space. Depending on the event, audiences can bring their own picnic blankets and baskets to add to their concert experience.  Beth has performed her picnic themed concert since summer 2020 for private celebrations, community events, festivals and outdoor block concerts. It can be presented as a 1 hr. concert or divided into two 40  minute sets with a short break between.
The outdoor concert is for the warmer months and weather dependent. A plan B will be discussed at booking concerning a back up date or the availability of an indoor space to move inside. The indoor concert is available all year and can be shaped to fit the occasion (Christmas, birthday, corporate, etc.).
Beth is based in Edmonton, Alberta, Canada.
Contact Beth for information and bookings. Click here
With her uplifting mix of early jazz, swing, roots, and 50s pop, Beth Portman brightens the greyest of skies. A dynamic vocalist, ukulele player and songwriter; Portman expands her solo performances by recording layers of harmonies and percussion using her suitcases, beaded purse and red shoes onto her looper station (neatly stored in a picnic basket). It's a one-of-a-kind experience that's playful, fresh and in the moment.