Beth's Picnic Concert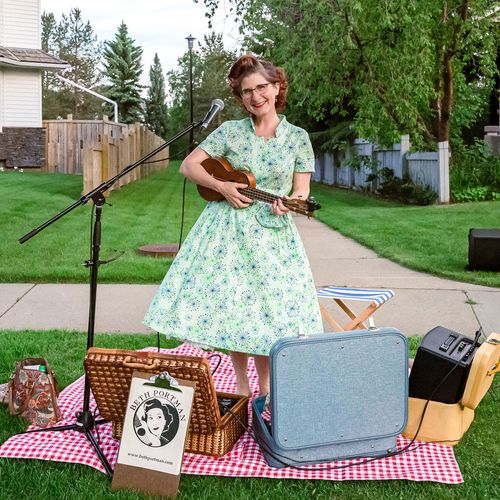 Beth's Picnic Concert Details
Beth's outdoor picnic-themed concert harkens back to simpler times, capturing the carefree joy of summer and is a wonderful way to bring family, friends and community together through it's uplifting music and picnic fun. Beth's Picnic Concert is also available for indoors all year and can be shaped for your unique event.  She brings the music and sound. You supply the suitable space, power and audience.
Beth has performed this presentation at festivals, community league events, afternoon teas, volunteer thank you picnics, house patio and lawn concerts and more since summer 2021.  
Beth has also created an alternative version of this picnic show shaped for elementary schools that include a music learning component (Div 1-3, voice & Div 2, ukulele) and demonstration of her looper station. 
Based in Edmonton, Alberta, Canada.
Contact Beth for information and bookings. Click here
With her uplifting mix of early jazz, swing, roots, and 50s pop, Beth Portman brightens the greyest of skies. A dynamic vocalist, ukulele player and songwriter; Portman expands her solo performances by recording layers of harmonies and percussion using her suitcases, beaded purse and red shoes onto her looper station (neatly stored in a picnic basket). It's a one-of-a-kind experience that's playful, fresh and in the moment.   
From Beth's BethPortmanSings YouTube channel.