Beth's Holiday Concert Presentations
This festive season Beth is excited to present a variety of live music presentations inspired by the popular holiday music of the 1940s to the 1960s. Beth is known for her vintage-vibe music, visual style and engaging performances that are timeless, upbeat, and fun. The whimsical, nostalgic quality of her holiday offerings are gift wrapped in a mid-century aesthetic bow and suitable for all ages. Beth has created a number of presentations to suit your needs, event, and budget. Let her add that extra sparkle to your holiday gathering or event this year. 
Songs include classics like It's Beginning to Look a Lot Like Christmas, Jingle Bell Rock, Deck the Halls, Up on the Housetop and many more.
Beth has liability insurance with Cooperators.
To learn more and for bookings click here to send Beth a message.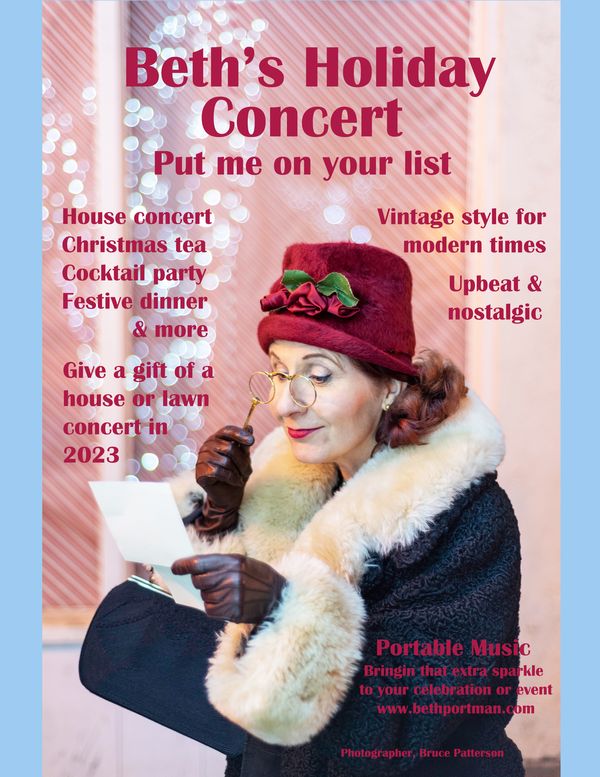 Beth's Portman's Holiday Tinsel Concert
1 hr. solo concert intended for a focused audience.
Instrumentation includes ukulele, creative percussion and looper station to allow building of sound layers for a richer sonic experience.  
Shiny festive set decorations.
Sound system supplied by Beth
Suitable for galas, dinner shows, Christmas tea socials, community events, house concerts & more.
Festive Music for Mood
1 hr. solo concert similar to Holiday Tinsel Concert but with a more relaxed presentation suitable for background music.
Suitable for dinner entertainment, cocktail parties, receptions, community and office events
          or 
1 to 2 hr. as a duo with added vocalist/guitarist. Presentation is different from solo option but includes the the same vintage feel and additional music from other eras. Depending on event size and needs can be performed with a sound system or without to allow roving.
Suitable for events same as other option & more. 
Beth  & her Holiday Ukulele
A stripped down 45-60 minute solo presentation with vocal and ukulele only. Depending on event size and needs can be performed with a sound system or without to allow roving.
Suitable for pre-dinner entertainment, house concerts, seniors accommodations, churches, community events, café & restaurant events. 
Holiday Singalong   (Participation)
Available as a solo or duo 45-60 minute presentation. Solo includes vocal and ukulele only. Duo comes with additional singer/guitarist which adds to the festive fun. Includes 20 lyric sheet books for sharing. Performed with a sound system.
Suitable for office parties, family & friend gatherings, cafe & restaurant events,  
To get you in the mood enjoy these two holiday song videos from Beth's YouTube channel 'Beth Portman Sings'.